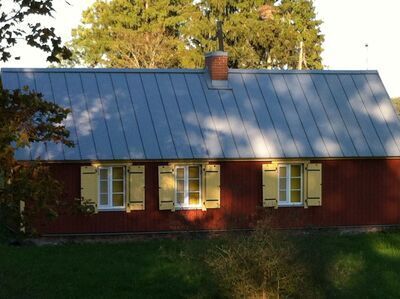 Window shutters help you pretect your home and save on heating costs
 

Window shutters are popular abroad – these are used to add a design element to the house and protect windows against heavy storms. Window shutters aren't quite as popular in Estonia – they are only incorporated in old houses where they were installed a long time ago.
 

 

Window shutters are good for summer houses where they fulfil several functions.



Shutters can be kept open to use them as a design element, and when leaving the summer house, window shutters can be closed. In this case, the shutters act as a security element and protect the house from strangers looking in and breaking in through the window.
Like the window shutter, the storm hatch protects the window against flying objects during heavy storms. These help you protect the window against flying branches or other debris that may damage the window.
Black window shutter fittings from Amig are made of steel and coated with black powder paint.
| | |
| --- | --- |
| | When installing window shutter hinges, it is important to pay attention to how the window shutter sits in the window opening: should the shutter fit into the opening and turn against the wall when opened 180° (left-hand picture) or should it sit on the wall and turn on top of the wall when opened 180° (right-hand picture). |

Fittings used to close the window shutter are intended to enable opening and closing the shutters 
from the inside without having to leave the house. This adds security to the house, because fittings are not visible from the outside and access to them is prevented.
Window shutters have several functions:
Window shutters can help prolong the service life of windows by protecting the windows against storm winds and rains.
Window shutters increase the security of the home – when the shutters are closed, it is harder to enter the house by breaking the window.
In addition to security functions, they also shut out the sun and prevent heat from leaving the house.
Window shutters are design elements that add personality to the exterior of the house.
Window shutters help save on heating costs and protect the house. We offer products that you can use to make a functional window shutter!
Luku-Expert recommends:
Key words: window shutter, storm hatch, window shutters, storm hatches, window shutter hinge, window shutter hinges, window shutter handle, window shutter handles, window shutter hinge bar, window safety hook bar, window area, amig, window shutter fixtures, window shutter fixture
Tweet